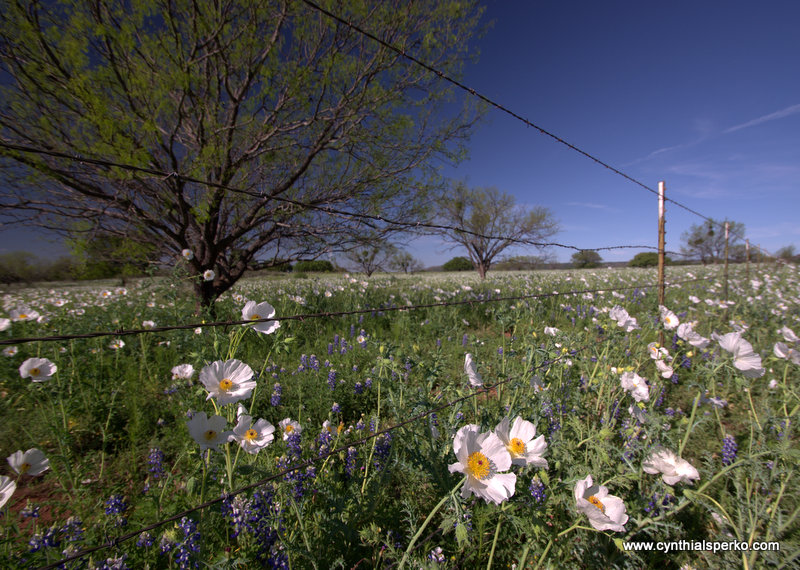 In the midst of locating the famous bluebonnets in the lone star state, we managed to come across a white poppies explosion. The flowers of blue became surrounded by flowers of white.
As far as my eyes could see, the soft petals of white blanketed this scenic off road picturesque location. 
I spent a good amount of time capturing images with the wired fence, and low to the ground angle. This was the only day that I put my extreme wide angle lens to work while traveling in Texas.
Although we photographed several bluebonnet enhanced landscapes during our short visit, we spent most of our time capturing the essence of small town Texas life. The small towns that made Texas well, Texas.
Getting back to these beautiful white poppies, this bloom is a flower used as a symbol of pacifism, worn either in place of or in addition to the red remembrance poppy for Remembrance Day or Anzac Day.
That remembrance is for all victims of war, a commitment to peace, and a challenge to attempts to celebrate war. 

Other than the soft wind blowing, and the chatter of birds, this place had a sense of tranquility which was very fitting for what we were photographing.
It's my hope for you that my photos and stories inspire you to enjoy the beautiful places that I write about. Whether I'm capturing God's creations in my backyard, or somewhere off the beaten path, I appreciate you taking the time out of your day to read my blog posts.
Below each post is a "Share" button. It would mean a lot to me if you would share my work with your family and friends. After you click the button a social media list will appear. Select one or more to share this post.
Thanks and Blessings,
Cynthia L Sperko