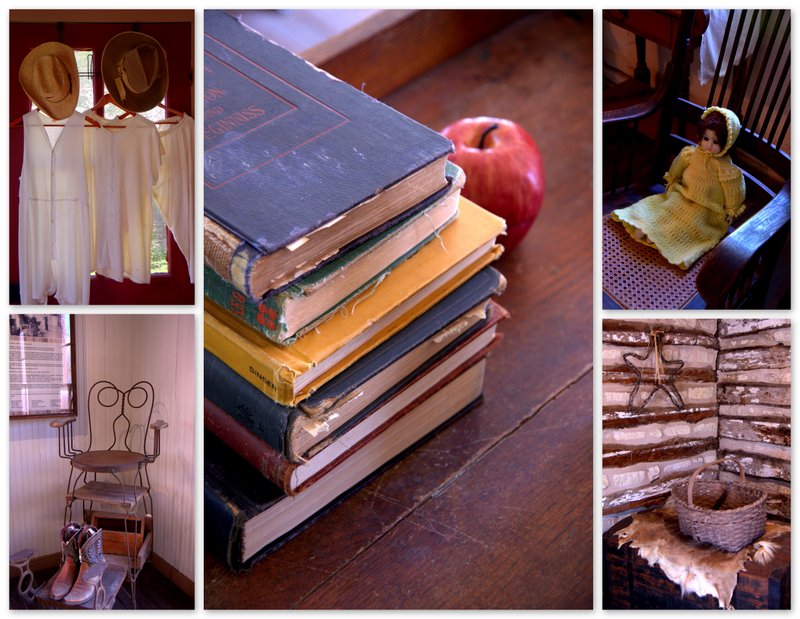 If you have ever been to Fredericksburg Texas, then you likely been to the Pioneer Museum.
The Pioneer Museum is a complex showcasing the region's German roots through 19th-century artifact exhibits & tours. 
I felt right at home capturing these artifacts and exhibits.
Upon getting our tickets and map from the knowledgeable guest services member, Elaine and I were well on our way to exploring this rustic historic place.
It was another beautiful warm and sunny day.  Perfect for exploring culture.
The White Oak School was our first stop. Like the Amish schools in Lancaster County PA, these German children attended a one room country school. On the blackboard were simple words printed in both German and English. 
Zooming in on the teacher's desk, I grabbed a close up of the vintage school books and the red apple.
The Arhelger Bathhouse was a place travelers would stop for a haircut, shave, and a hot bath. They could also get their boots "shoe shined". (Photos in the upper & lower left.) This room was full of artifacts of what looked like something out of an old time movie.
During the tour, inside what appeared to be a little girl's bedroom lay a crocheted doll on a rocking chair. I had many dolls when I was a child, but none like the one in the photograph.
The image on the bottom right was captured inside the Smith-Walton Log Cabin. The large wooden chest was used for most of the family's belongings when moving to another place. 
Though small, the log cabin had two rooms. The front room was a tiny living space, and the other room was the kitchen. This log cabin reminded me of those new tiny houses that some people are choosing to live in.
If you would like to view more images from the Pioneer Museum, click here. 
Fredericksburg Texas is a beautiful place to explore. I recommend spending at least two days so you don't miss out on discovering all of the sights and sounds that this small Texas town has to offer. 
Enjoy your stay. We sure did! 
Thanks and Blessings, 
Cynthia L Sperko