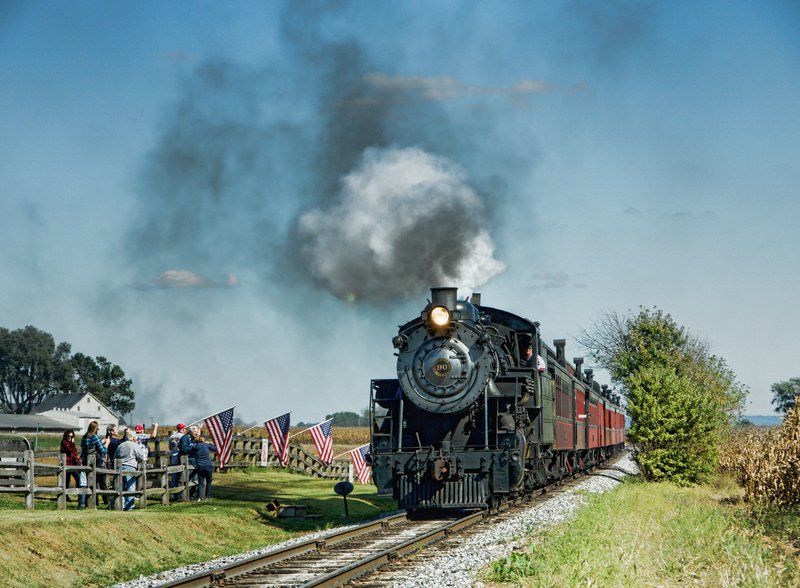 Every time I visit the Strasburg Rail Road, a new adventure awaits. Whether it's the thrill of the old time vintage rail, the black smoke bellowing up, up, up towards the sky, or simply a trip back to memory lane when steam trains were the up and coming method of transportation, the adventure of it all is incredible.
On this day, I was hoping to capture the infamous steam engine 611, but to my dismay I missed it from roaring past the Red Caboose Motel. This place was my destination. (If you haven't had the chance to capture the Strasburg Rail Road Train from this iconic location, by all means add it to your bucket list.)
Not only does the Red Caboose Motel have a place to photograph the Strasburg Rail Road Train, there is a restaurant inside that serves delicious food. It's called Casey Jones and it was named after a railroad engineer who was known for going down the tracks very fast. This speed of his is what lead to his untimely death in 1900. There's a song about it too. 
In either case, you have to try their Pork BBQ Sandwich. It is quite tasty and filling.
While you are at the Red Caboose Motel, take a walk around the grounds. In addition to the rail cars which serve as room and board for motel guests, there is a free petting zoo. For a small fee you can also climb up the tower. The view from up there is quite amazing!
About the Strasburg Rail Road image, I wanted to capture the steam rail from a different location than everyone else's place. After walking to the main road and across the train tracks, I found the spot I was looking for. Another reason why I chose this spot was due to the sun hitting the train on the opposite side from where other rail fans were capturing the steam rail. 
NOTE - When photographing steam trains, I find it best to capture the train on the side where the sun is hitting it nicely. If you can safely get an image from that angle, you may have a winning image. Safety first though. Please obey the rules of the railroad crossings, etc.
In other news, I've been testing a new email provider. Till now and if you follow my blog via email, I was using Mailchimp. I decided to give Mailerlite a try. So far I like the interface and the ease of use. I'm also using their free option which has more options than Mailchimp does.
The big test will be when you receive your first email from me through Mailerlite. I also chose a template that includes the last two blog posts so you can catch up with my stories if you would like. I also added a button at the bottom for anyone interested in one on one DSLR photography lessons. I'm offering this service for students, photo enthusiasts, and creative female business owners.
If you know of anyone who would like one on one digital photography lessons, forward this blog post to them.
I hope you enjoyed this blog post. I appreciate you following my artistry!
Thanks and Blessings,
Cynthia L Sperko