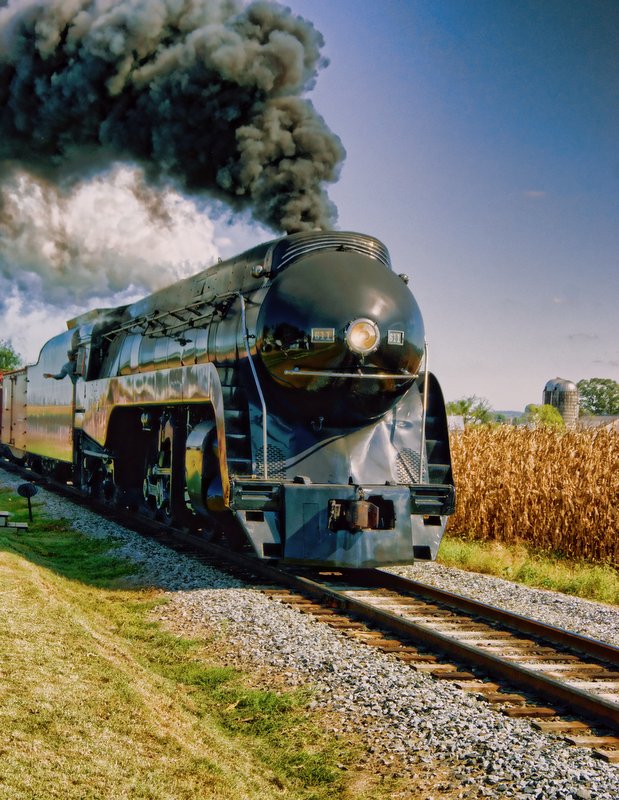 As I approached my destination, which was the Red Caboose Motel, there were droves of rail fans watching and waiting for the elusive steam engine 611 to race down the tracks.
Elusive? Maybe not so much, but as I got out of my car and grabbed my camera from my camera bag, I no sooner found a spot and the 611 rode past us all at a very slow pace. I was grateful for being at the right place at the right time, but capturing the 611 without any people was a daunting task to say the least.
So there it is. My one and only image worth sharing of Steam engine 611. I didn't know until I looked at the images that I caught the engineer waving. I must say that I never saw a steam engine like this one before. A steam engine with a modern twist is how I would describe it.

The locomotive, one of only 14 Class J passenger locomotives built, and the last of its kind in existence today, traveled in late August from the Virginia Museum of Transportation to Strasburg for a "Reunion of Steam" with fellow Norfolk & Western locomotive Class M No. 475, which has been operating at the railroad since 1993. (Excerpt found online via Penn Live Patriot News.)
As soon as the Queen of Steam passed by us, the crowd dispersed except for a few of us who wanted to catch another series of photos of steam engine 611. Yes, it did come through once again. To my disappointment though, this series of steam train 611 images were not going to win me any prizes. That's the way it goes sometimes.
In either case, I had a great day getting out and about capturing train images. 
If you would like to order a print of this image, click on the photo. Your browser will take you to a print ordering gallery page. 
Click the "Shopping Cart" Icon on any image, or click an image and select the "Buy" button. A box with print sizes will appear on the right hand side. Select the desired size and follow the step by step instructions. If you have any questions, email me here. 
Order by December 15, 2019 if you would like to receive it on time for Christmas.
Thanks and Blessings,
Cynthia L Sperko
Merry Christmas & Happy New Year!