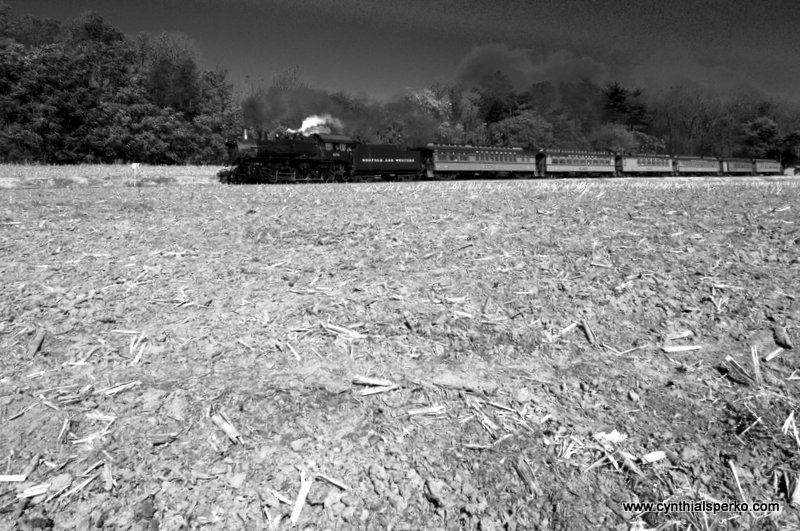 The afternoon sun brought a surge of autumn warmth on this late October day. The winds were light, and the skies a cobalt blue. Knowing that the fall colors of red, yellow, and orange would soon be parting ways, this day was possibly a final day of autumn captures.
My friend Beth met me at the Strasburg Rail Road Station, and we set out once again on a photo adventure in the midst of beautiful Lancaster County PA. Grabbing my gear from my trunk. I quickly joined my friend for a walk around this old time rail station.
We didn't stay long. Only heading back to Beth's car when the Strasburg Rail Road left for Paradise. Driving around for a bit, we settled for parking at the railroad crossing on Cherry Hill Road in Ronks Pennsylvania.
Neither of us knew what photographs we would take, but using my fairly new wide angle lens, I had a few ideas of the types of railroad photographs that I wanted. Including this monochrome locomotive image.
As I mentioned before, using a wide angle lens at the widest range, and getting down low to the ground can provide a up close and personal foreground view. 
Waiting until the Strasburg Rail Road Train was in full view of my viewfinder, I snapped a few images in the hopes of getting a nice photo.
To be honest, the color image wasn't as nice when viewing it on the computer screen. It wasn't a bad photo though. It needed some improvement.
Recently, when I was viewing the locomotive images from the field trip, I selected the monochrome option. The image in this post is the end result. 
I must tell you that I am having a lot of fun with this wide angle lens!
In case you were wondering, the wide angle lens is a Tamron 10-24mm. If you would like to save money on your lens purchases, consider buying good quality used lenses. It really is a money saver.
If this is your first time reading one of my photo stories, I would like to thank you for taking the time out of your busy day to read my blog. Click here if you would like to get my blog posts directly in your inbox.
If you have been following my stories for awhile, I hope that I have made your day better. Please share this blog post so that others may discover new places to visit in Lancaster County Pennsylvania.
Thanks and Blessings,
Cynthia L Sperko