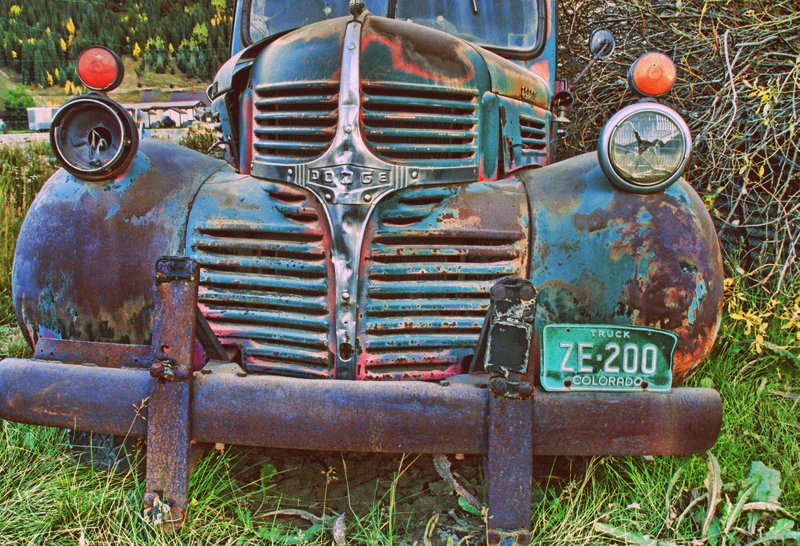 This old vintage truck seen its glory days many moons ago as it would appear. It's owner only knows the last time this old vehicle was roadworthy, as well as, the many road trips it must have taken.
This old vehicle now sat on the side of the road now only able to take its long awaited rest. A rest long overdue I suppose.
I remember this day well. Again, I want to reminisce back a few years to fall of 2011. A time where adventure awaited, and new photos were created. New photos like this one. One I haven't shared before.
This was the day where we spent the entire day traveling through the Million Dollar Highway between Durango and Silverton Colorado. On our way back from a side trip to Animas Forks, we drove around the small southwestern town of Silverton. We reached this area as the sun was quickly diminishing.
Unfortunately, we had a very short window of opportunity of photographing Silverton as we wanted to capture a beautiful mountain sunset on our way back to our temporary home. 
A few snaps here and there, and of this beautiful old vintage truck and that was it. An interesting place Silverton Colorado is. Especially their main street that looks like an old time western town from the movies. This place is still on my mental bucket list as is Durango, Telluride, and a few other nearby towns.
The Million Dollar Highway is on that list as well! It's so beautiful, especially in the fall with the golden cottonwoods, aspens, and stunning mountain views everywhere you look.
Have you been to Colorado? Where is your favorite place to travel? Is there a certain place that you want to go back and visit again and again? Email me here or hit the reply button with your answers.
Thanks and Blessings,
Cynthia L Sperko