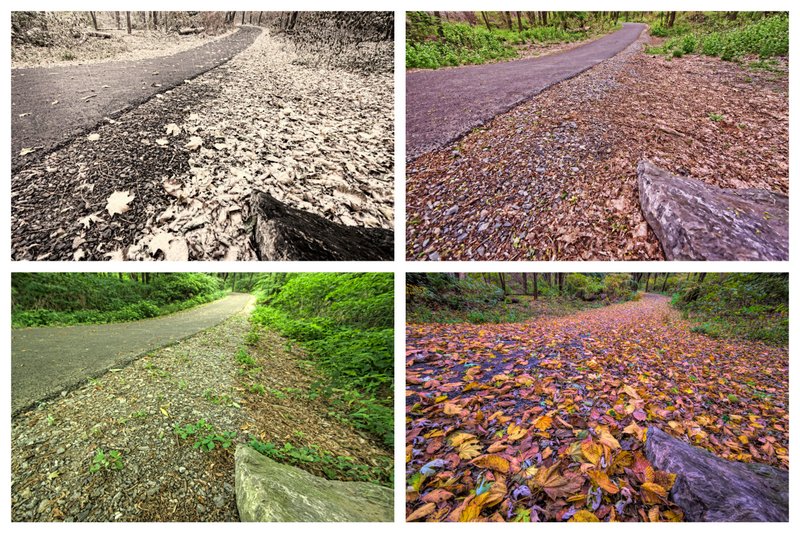 I am thankful that I reside in the part of the world that showcases each season. Winter, Spring, Summer, and Fall. I'm also grateful for having easy access to the Northwest Lancaster County River Trail.
If you remember my post from last Fall, I wrote a story about this beautiful trail during this colorful season. As it turns out, I decided to put myself on a personal assignment that involved creating a four season collage featuring the Northwest Lancaster County River Trail.
It took nearly a year to complete, and I'm excited to debut it via my Photo Journal. The Autumn image is my favorite out of all of the Northwest Lancaster County River Trail images I captured so far. That said, I wanted to use that composition for each season.
Out of the four images, the Winter photo was probably the most difficult due to the pelting sleet and snow falling all around me and my camera. (One great benefit of owning a Pentax brand DSLR is the weather built camera bodies that keep up during bad weather. No issues there!) 
The next issue had to do with getting older. It's not as easy to capture photos when I'm low to the ground. Thanks to a knee injury that happened a decade ago.
Getting old can take the fun out of photography at times. But hey, it's all part of the journey and the experience. Life is good!
Speaking of the Northwest Lancaster County River Trail, I had the honor of writing an article for the Fall Issue of the Marietta Traveler! It's my take on the trail from a photographer's perspective. 
The article also focuses on all four seasons, and includes a few DSLR photo tips. Go ahead and give it a read. Your comments are appreciated too. Email me here.
Mother Nature's beautiful scenery is remarkable during any season. Each one provides us with the ability to take in the colorful wondrous works that leaves us breathless and even speechless at times. It also inspires us to view the wonderful world of nature with a new set of eyes and a never ending sense of understanding God's Universe. 
Thanks and Blessings,
Cynthia L Sperko