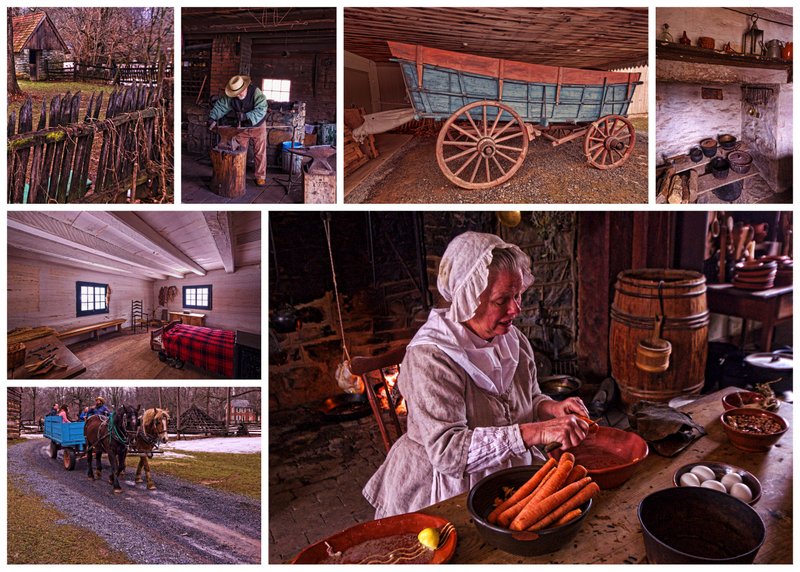 The Landis Valley Village & Farm Museum was the place I decided to venture to. Reason 1, is it has been awhile since I have captured the essence of Landis Valley. Reason 2, in celebration of Charter Day.
Charter Day is celebrated on the second Sunday in March. On this special day, participating Pennsylvania State Museums are open free of charge. Some other historic places of interest to visit on Charter Day are the Ephrata Cloister, The Railroad Museum of PA & The Daniel Boone Homestead.
I was hoping for sunny skies and warm temperatures, as the weatherman had announced spring like weather was abound, but this venture began and ended with damp, cloudy, overcast skies and chilly temperatures. Despite all that, and muddy grounds due to heavy rain during the night, I had a great time exploring this historic place.
To give you a little history, the Landis brothers, Harry K and George, founded Landis Valley Village & Farm Museum. Landis Valley has been dedicated to preserving Pennsylvania German communities from 1740 - 1940. I might add that the staff is doing a very good job keeping things how they were back then. (Not that I would know.)
If you ask me, walking the grounds of Landis Valley Village & Farm Museum is like stepping back in time to the Little House on the Prairie Days. (Yes, I watched this show growing up.) As it is a village, this museum has its own tavern, where travelers would stop on their way to or from their destination, black smith shop, a country store full of goods and supplies, and the Landis House, where Harry K and George resided.
There are far more dwellings to see and plenty to photograph as well, including farm animals, horse drawn wagon rides, and more!
The photo collage is a sampling of things you will find at Landis Valley Village & Farm Museum. Starting with the lower right image, Anne who is a staff member, is shown prepping Carrot Pudding. Back in the day, the cooking was done over open flame. In the background, a whole chicken hanging by string was how they cooked poultry back then.
The upper right image is the inside of another home where a family would live. The middle image on the left side is the parents bedroom. There was no comforts like air conditioning, or central heat. The children would sleep on patches of hay upstairs. It would be quite chilly during the winter months. My how times have changed.
The top photo second from the right is an actual wooden wagon that was used for every day travel. It is a lot larger in person. 
Landis Valley Village & Farm Museum is open on Wednesdays through Saturdays from 9 -5, and Sundays from 12 -5. Their address is 2451 Kissel Hill Road, Lancaster, PA 17601.
I highly recommend that you visit the Landis Valley Village & Farm Museum. There is something for everyone of all ages, and you get to learn how life was way back when.
Thank you for staying connected to my Photo Journal. I invite you to share this post so that your family and friends may learn more about Landis Valley Village & Farm Museum.
Thanks and Blessings,
Cynthia L Sperko
Click here if you would like to receive my blog posts directly in your inbox. Your private info will not be shared with anyone!