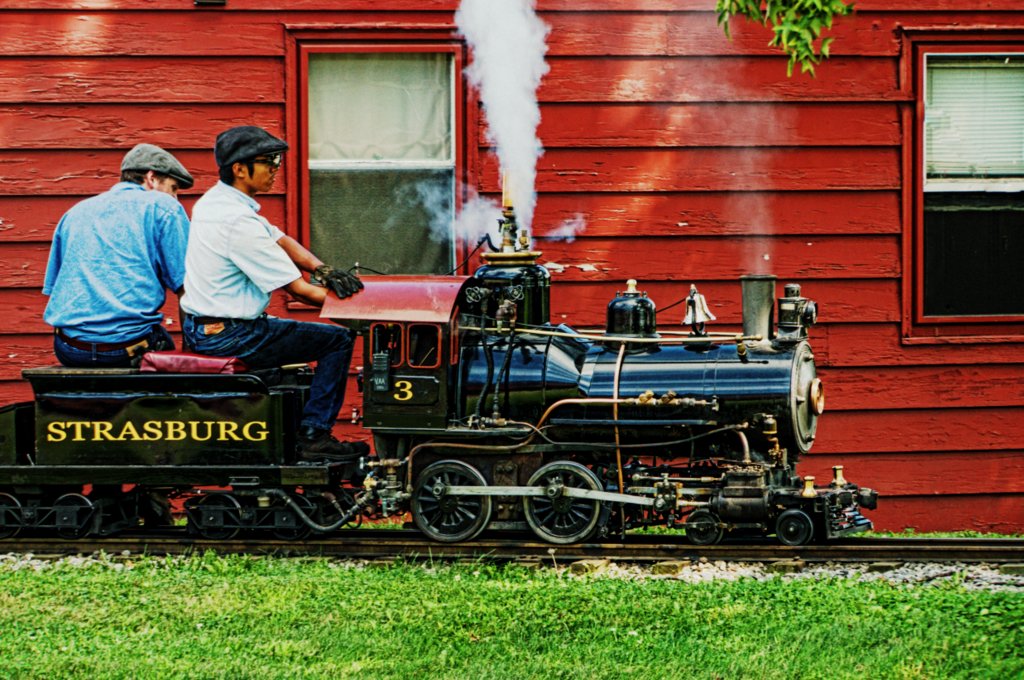 The mini Strasburg Rail Road or the pint sized pufferbelly was my chosen subject for this blog post. Built around 1920 the mini rail was used as an amusement ride back in the day. It might have been used at Coney Island.
I had yet to capture this pint sized pufferbelly composed in a pleasing, yet colorful way. I knew where I wanted to photograph it though. Against the very red, textured wooden wall, which is actually an office of sorts.
Going back to the color wheel and contrasting colors, including subject matter of opposing colors, red and green in this case, makes for a great photo. Including people doing something makes the composition better.
If you get a chance to ride Strasburg Rail Road's pint sized pufferbelly, it starts off going backwards and through a tunnel and some tracks beyond. Then it takes you through the tunnel a second time and throughout the windy tracks on the Strasburg Rail Road grounds. The cost to ride it is $5. Children under age ten must ride with an adult.
In case you were wondering, no I chose not to ride it this time around, but one of these times I will do that. I go to the railroad to capture the essence of steam train travel.
If you would like more information about the pint sized pufferbelly, click here!
I apologize for not keeping up with my blogging. The last few weeks found me focused on the personal brand photography part of my photo business. Everyday i'm learning something new and trying different ways of getting the word out. 
If you know any female entrepreneurs who reside in Lancaster County PA and they could use a steady stream of fresh lifestyle type images, feel free to send them my way. It's very much appreciated! If you fall into that category, click here to learn more about personal brand photography.
Thanks and Blessings,
Cynthia L Sperko
P.S. After careful consideration, I decided to add DSLR Photography Lessons as a service. It doesn't matter what your skill level is. I just want to help you get a better understanding on your digital single lens reflex camera. Click the link on the black bar at the top of my website to learn more.