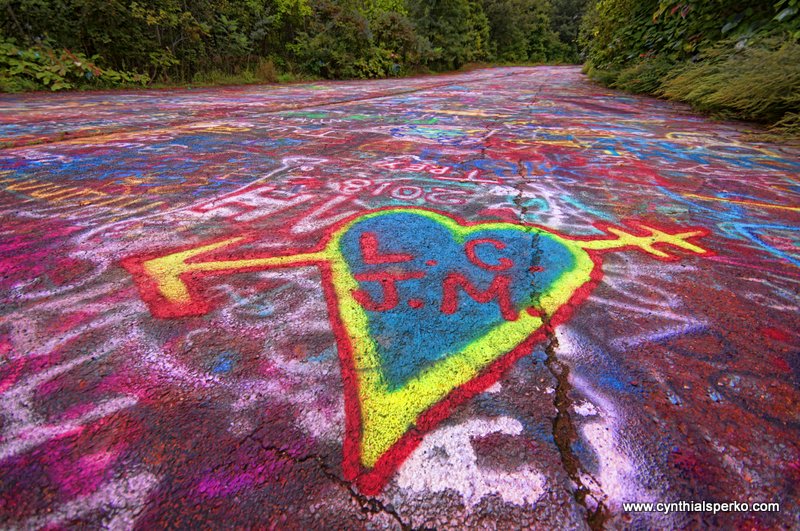 A few months ago I shared a railroad image from the Ashland Railroad and Mine Shaft Tour. Today, I thought I would share my favorite image from our photo outing in Centralia Pennsylvania.
Upon arrival, we were greeted by several off road vehicle & cycle road warriors. They were apparently looking for a remote place to practice their acrobatics on wheels, while we were looking for ghost town like photo opportunities.
Following the advice of a former resident, we strolled along a dirt path until we found what we were looking for. Rainbow-colored-with-spray-paint road nick named, Graffiti Highway.
Suddenly, we were on a black paved road surrounded by blue, yellow, red, orange, green, purple, white, pink spray painted graffiti. It was like we traveled back in a time warp of sorts. 
The Centralia mine fire began in 1962 and continued to smolder for nearly 50 years. Today, there are no noticeable fires and other than an old church that is still used, Graffiti Highway is the only attraction in Centralia. No homes remain either. 
For the Graffiti Highway image shown above, I got down low to the ground and focused on the colorful spray painted heart, accentuating it with my extreme wide angle lens. I purposely excluded the overcast sky because I wanted the Heart and Graffiti Road to be the main focus.

The arrow through the heart reminded me of my grammar school days of drawing hearts on notebook paper while trying to pay attention to the teacher during class. Was I the only one who doodled way back when? Be honest. You did that too!
Click here if you would like to order a framed print of Graffiti Highway. A new window will open, and your web browser will take you to my Shop. Other products are also available. Email me at csperko@comcast.net if you have any questions. I appreciate your business!
Please share this blog post so that others may learn more about Centralia Pennsylvania.
Thanks and Blessings,
Cynthia L Sperko