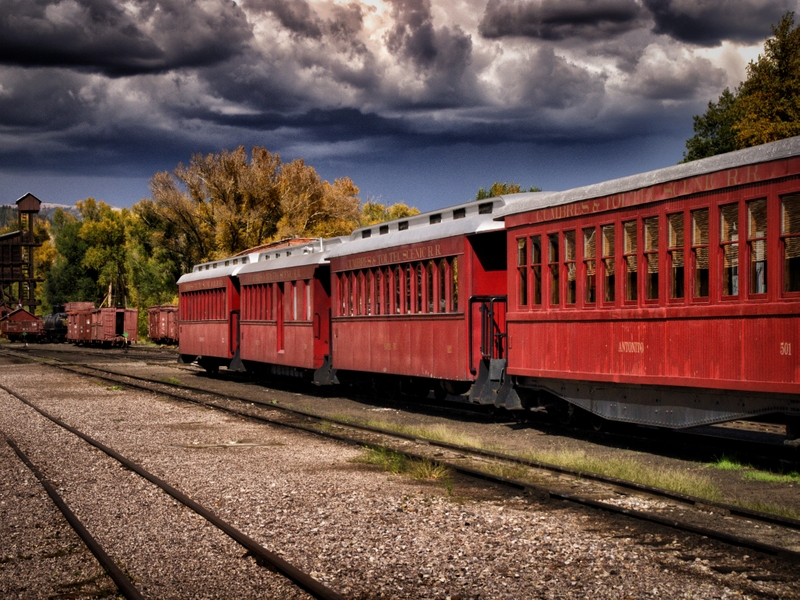 My trip down memory lane continues with another place in the Southwest. Another scenic vintage railroad as well. The Cumbres & Toltec Scenic Railroad.
It was our last day in Pagosa Springs Colorado. We cleaned up our condo, packed up, and spent the next few hours browsing the many charming gift shops in Pagosa Springs.
Red Hot Chicago was the place we chose to eat lunch. I experienced my very first Chicago hot dog there. You would think that growing up in the Mid West that Chicago style hot dogs would have been something on our menu at home. Nope!
I never knew that a Chicago hot dog included yellow mustard, sweet green pickle relish, onions, tomato wedges, a pickle spear, sport peppers, and celery salt. I opted for mustard, relish, tomato wedges, and celery salt and boy was that the best hot dog ever!
Bidding Pagosa Springs farewell was a little heart breaking. Our ten days on this southwestern journey was coming to an end when it just seemed like it only started.
All good things must come to an end though and once again we were on our way home. Our place for the night was Albuquerque New Mexico, but there was still one more place for us to photograph!
Turning off the Highway, we stopped at the Cumbres & Toltec Scenic Railroad. 
This rail is another steam locomotive. Rail fans can ride this rail from Chama New Mexico to Antonito Colorado, or vice versa. One way tickets may be purchased for the coal fired steam train ride that takes you through mountain canyons, desert life, and colorful meadows.
We didn't have time to ride this rail, but we found numerous photo opportunities in and around the train station and yard, including the image in this post.
It seemed as though the storm clouds in the distance wanted to follow us to Albuquerque, but the aspen filled mountains must have prevented that from happening. In either case, the threatening stormy skies added contrast against the vivid red rail cars. I have a 16x20 canvas gallery wrap of this image on my wall at home. A sweet reminder of this fun-filled photo cation.
The address of the Cumbres & Toltec Scenic Railroad is 500 Terrace Ave in Chama New Mexico. For this season (2019) this rail is open for train rides from May 25 through October 20th. According to USA Today, this historic locomotive is one of the 10 best rails to ride! If you ask me, the best time to come is during the autumn season. The golden aspens are at their most vibrant colors. That alone is well worth riding this locomotive! That is if you can wait that long.
I don't know about you, but I am game to ride this fantastic steam rail!
Did you know that I am available to write blog posts for you? I am also available to professionally photograph your timeless antiques, classic cars, model railroads, and other priceless treasures? Click this link to learn more!
Thanks and Blessings,
Cynthia L Sperko
P.S. - I blog to inspire you to enjoy our beautiful world, one image & story at a time. To let you in on my personal journey from behind the camera lens. Enter your email in the box to join in. Your private info will not be shared with anyone.