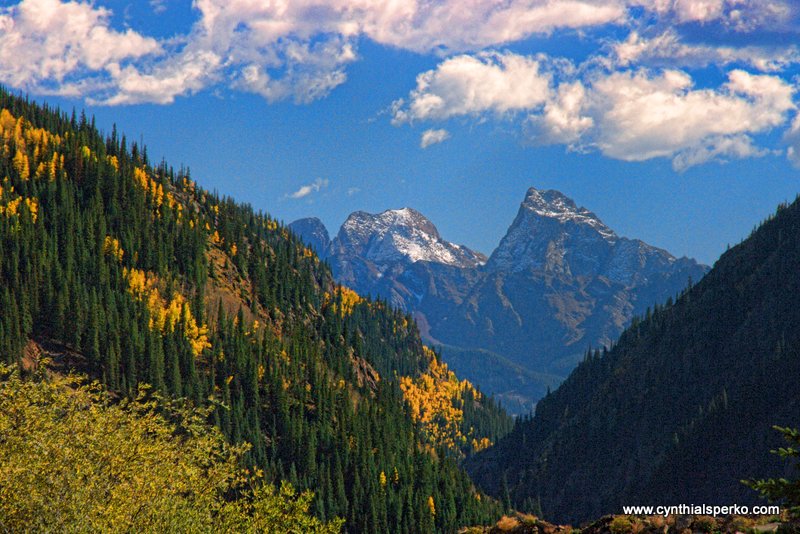 The Colorado mountain views in autumn are absolutely breathtaking. Taking a ride along the Million Dollar Highway is spectacular. 
Our day began early in the morning when we left Pagosa Springs Colorado. We were driving to Silverton Colorado, which from Pagosa Springs, is generally a 2 hour drive. However; when we got on the Million Dollar Highway, time seemed to stand still.
Looking around at the cottonwoods, and aspens, some now with golden hues was such an amazing site. Did I mention the majestic mountain views? Only a few of them were topped with mountain snows. No matter where you looked though, beauty was everywhere to be found.
There are pull offs at nearly every mile, twist, and turn and each with its own name. I suppose the pull offs are named so in case someone is stuck, or needs help knowing the name of the pull off is a big help for the ranger patrolman or woman. Very smart.
After driving around the curvy, beautiful highway, and taking advantage of the mountain points of view, we grabbed our packed lunches and found the most peaceful place on the face of the earth to fill our empty stomachs. You could honestly hear a pin drop it was so tranquil.
The Million Dollar Highway was another highlight from the 2011 autumn Colorado photo vacation. How I long to go back and revisit these incredible places that only our creator, well, created. How I long to capture these magnificent mountain ranges full of fall colors.
The image above was taken from one of the many pull offs.
Well, I may not be able to revisit these irresistible locations in Colorado, but I will be tagging along with a friend to Texas Hill Country next week!
Among capturing the beautiful bluebonnets, and this year we have been told they are spectacular, we will also be exploring Fredericksburg, San Antonio, Austin, and many places in between. It's a short 4 day photo vacation, and I hope that we come back with stunning colorful landscapes. We will more than likely have stories to be told so expect to hear more about them as well!
With this trip set in motion, I will likely be skipping next weeks Photo Journal entry. I expect to write an entry though two weeks from this post and about our wonderful Texas trip.
I added something new to my website. I have a collection of images that you may purchase as a digital download. Click on the photo on this post to view the images as well as to view them in a larger size. You may be asked to enter your name and email. Your private info will stay private!
If you would like to purchase a digital download, the price is $7 each. These images may be used for personal use only - screen savers, etc. Please share your favorites so others may view my artwork.
Thanks and Blessings,
Cynthia L Sperko