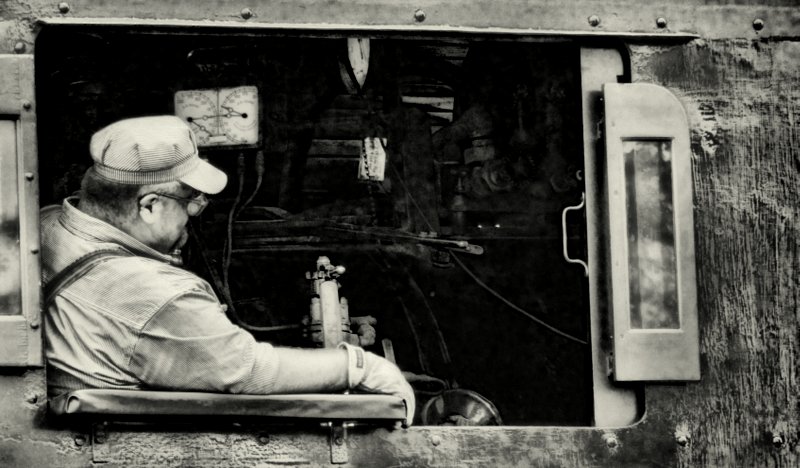 As I arrived at the station, I heard the whistle blow. I got out of my car just on time to witness the conductor signal the engineer that once again the engine was safely hooked up to the caboose. Yes, I was at the Strasburg Rail Road.
When the train arrives back at the station, the engine has to be hooked up to the caboose due to the lack of a turn table at the station. 
I grabbed this image just before all of the commotion began. Excited passengers waiting to board as others were getting off the train.
As usual, mom and dads were grabbing images of their kids with their backs to the black steam engine. 
Hearing the whistle blow three times, the Strasburg Rail Road Train was off on another ride to Paradise Pennsylvania.
Hearing another whistle blowing, I focused my attention on the mini Strasburg Rail Road barreling in and around the station. I snapped a few of the smaller rail too, only to get disappointing images. Oh well.
My focus this time was practicing photographing people and place. What better place to do just that than at the Strasburg Rail Road. 
Unless something changes, I've made the decision to pursue personal brand photography. Yes, this is much different than photographing landscapes, but with my background capturing weddings, portraits, and models, I'm looking forward to this challenge.
I also signed up for a free 2 1/2 day class with, Jasmine Star who is an expert at branding photography. In addition to watching her photograph an actual branding session, she shared her knowledge on how to engage our followers on social media in many different ways.
I learned a lot about branding photography and I'm really excited to pursue this field. If you are a creative entrepreneur and you reside in Lancaster County PA, drop me a line. Let's connect! I want to capture your story.
Everything is pretty much set in place. Including booking appointments online.
If you were wondering, I still have fine art landscape pieces for sale, and I still plan on reserving a table at this year's Christmas Bazaar at Mary, Mother of the Church.
There is an art show in the works this December at United Zion Personal Care Home in Lititz, PA that will showcase the wonderful works of Lancaster Camera Club's Member's artwork.
More info will be made available closer to the show opening.
If you would like more info on personal brand photography, click here to visit my website.
There is a helpful resource guide that will educate you on who personal brand photography is for and how to avoid 5 mistakes when hiring a personal brand photographer.
I appreciate your support. Please pray for me. I truly believe that this is my calling.
Thanks and Blessings,
Cynthia L Sperko