Hello and Welcome to the Brand Snack Blog.
A place where you can sit back, relax, and learn a thing or two about business/website/brand photography. As for the snack, that is up to you. While we are on the subject of food though, my favorite treat is anything sweet, especially cake.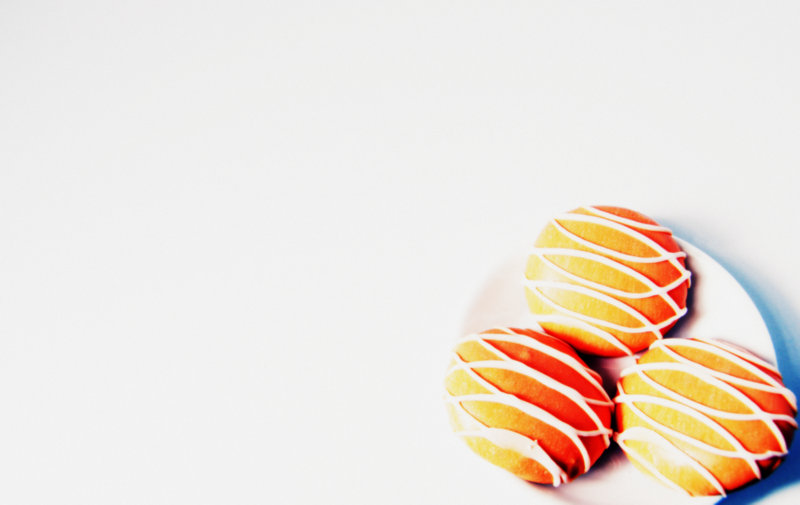 In case you were curious, the photo above is a plate of Orange Creme Cake Cookies. I was looking for props to practice photographing Flat Lays and remembered I had these very tasty cookies in my freezer. Believe it or not, There are four left. (If this was twenty years ago, those cookies would have been eaten within a week's time.)
Okay, so I mentioned Flat Lays. Simply put, Flat Lays are high quality prop images with extra white space for adding text. Text like list's, beautiful quotes, or other info. You likely have seen them used countless times in webinars as slides.
This image was captured with afternoon window light with my DSLR mounted on a tripod. It's an easy set up and you don't have to use a DSLR either. (In my opinion it's best if you do though because when it comes to your business, you should rely on only the best resources including your camera. Hey, and if you need assistance with learning how to use your fancy camera, I would be happy to help you out!)
Getting back to the Flat Lays, for the set up, I placed a white piece of foam board on a table, another one is placed behind right side up, and another I place opposite the window light to reduce the shadow. As shown, I placed the subject in the corner to allow for the white space. 
I captured the image from all different angles though including the center and had the camera in a downwards position. The camera settings were f/8 at 1/6th second. White balance was set at 5000 Kelvin.
I use a program called Picasa to post process the images. I was told that Picasa is no longer available for free download, but if you have it, the software is fairly simple to use. Snapseed works well too. Gimp is another program you can use for free, but there's a learning curve. At least for myself.
In Picasa, I use the Glow Filter, and the Cinemascope filter. Both of these options work for the light and airy effect.
Another item to mention is when composing Flat Lays, keep it simple. The focus should be on the subject and not on much else. Also, you don't have to use this set up. Placing the plate of cookies on a kitchen table on a placemat, could work. It's best to experiment.
Thanks for taking the time to read my first blog post named, Brand Snack. If you would like to receive my posts in your inbox, enter your email in the box below. Along with receiving my blog posts, you will receive a Personal Brand Photography Resource Guide, a few follow up emails, and a DSLR Tips & Pointers Guide.
Oh, and before I forget, I'm having a personal brand photography session sale. Save up to $150 off a quarterly session and $100 off a monthly session. I work with female creatives local to Lancaster County PA, but I'm willing to travel. Click here to learn more!
Thanks for Snacking,
Cynthia L Sperko