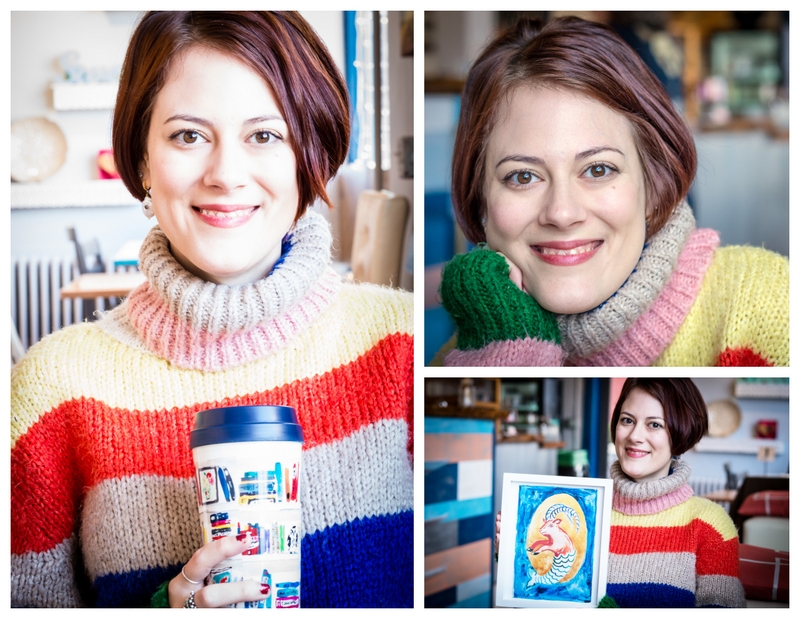 I recently had a chance to get together with local female artist Gillian Pearl. That's Gillian with a hard G. Gillian met me initially through the Neighborhood App. This app allows you to get in touch with people within your local area.
Gillian responded to a request I made. I was looking for a few female creatives/entrepreneurs who wanted to be interviewed for my Brand Snack Blog. We got together at the Heart Cafe in Marietta and talked about life as creatives, among other things.
To give you a little background, Gillian has been an artist since she could pick up a crayon. Developing a love for graphics and comics, Gillian found joy in drawing, and using animation to express herself. Being an English major in college she quickly learned how to convey storytelling through her creations. Along with that, she developed a love for using her illustrations for children's books.
Gillian has her grandfather to thank for the love of art. He was a painter. He had his own studio too. As a child, Gillian and her grandfather would spend their time creating art and visiting local art museums. Touring art museums is still a love of hers.
Gillian is drawn to using watercolor to paint pets, and people. Living subjects is what she calls it. Most of the time she can create a small painting in about a day. She's currently working on a zodiac series.
One of the questions I asked Gillian was what makes her art different? Her reply was her drive to tell her story through her artwork. Art that connects with her clients is partly because of her story. The special way she has of drawing people into her wonderful world of art is what sets her apart. 
Another question I asked was what has been her greatest joy being an artist? Gillian's answer is simply she likes spending her time doing what she loves the most. Along with that is not having to stick with a schedule. If she has an idea in the middle of the night, she can go ahead and get her creative juices flowing.
A word of advice that Gillian has for female entrepreneurs is to create art that you enjoy doing the most. Find that sweet spot that your clients want. Seek out resources from books, classes, and people you know as well. College isn't for everyone and depending on what you want to do there are other options open to you. (Gillian did drop out of college, but she's grateful for the experience.)
The collage at the top of this post are a few images that I captured of Gillian. My favorite is the photo in the top right. If you ask me, Gillian is a natural in front of the camera. 
Gillian is also available for art commissions. Click here to view her website. 
Would you like to be featured on my Brand Snack Blog? If you are a female creative or entrepreneur based in Lancaster County PA, click here to learn more - scroll to the very bottom of the page. I currently have 3 openings. And you don't have to be an artist to apply.
If you are not a part of my Brand Snack Blog and you would like to be, enter your email in the box below. In addition to getting a benefit email series about branding photography, you will receive other resources as well as my Brand Snack Blog Posts in your inbox. Your private info will not be shared with anyone!

Thanks for Snacking,

Cynthia L Sperko