If you want to satisfy your sweet tooth, and only a fresh, home baked cupcake with buttercream icing will do, then you are in for a special treat. Julia Nikolaus, owner of Julia Nikolaus Cupcakery CO started her company slightly over one year ago. 
I recently purchased a cupcake kit from Julia to treat myself to something sweet, as well as, to use the kit as a self photo assignment, and try my hand at cake decorating. Something I haven't done in decades. More on that on another post.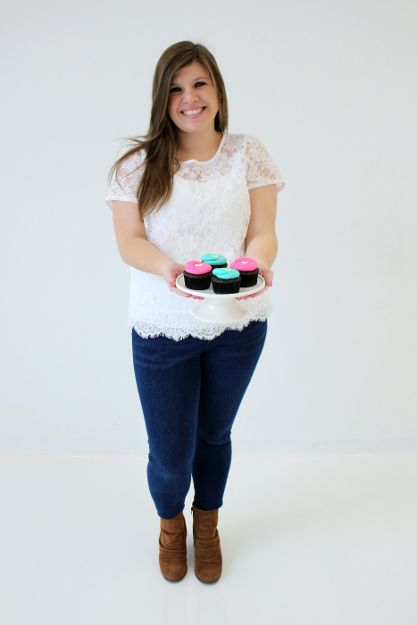 I thought you would like to know Julia's story as well as get some valuable marketing advice from her. 
I wanted to give more of an intro, but Julia's words have already done that. Introducing Julia Nikolaus.
Enjoy the read!


1) Tell me a little bit about your back story. Your why.

My love for baking stems back to when I was about 7 years old. I vividly
remember attending a Pampered Chef party with my mom where I saw a 3
layer cake stacked with fresh whipped cream and berries. I was in awe and
just had to replicate it. Ever since, I have not put down the whisk. 
Self taught, Food Network has been my source of education in addition to many
experimentation's in the kitchen with my mom.
After receiving a few requests to do cupcakes for birthday parties and other celebrations, I decided that now was the time to take my beloved hobby into something more. 
For months, I prepped for the launch of my business - this included logo creation, branding development, and many steps to prepare for my application to become a Limited Food Establishment from my home in the state of Pennsylvania.
After many months of hard work, I launched my business in April of 2019 and have not looked back since. The decision to go into business was a combination of many things - an outlet for my creativity, my love of doing something to make others happy, and my obvious (and very real) passion for baking. I feel so honored to be chosen to create baked goods for such special occasions in my client's lives!


2) How do you prevent yourself from over indulging in the sweet treats that you
make? 
This is actually a question that I get quite often! To my luck, I have developed my recipes that each batch of cupcakes makes exactly one dozen in quantity.
Since I sell by the dozens, that often means that 9 times out of 10, there are no
extras! Every so often, I'll end up with one extra and will treat myself. 
I am a complete chocolate lover, so when I make flavors like Dark & Dangerous and
Midnight Peanut Butter for orders, I do get a tad jealous and wonder why I had to make my recipes so efficient!


3) When it comes to marketing your biz, what channels work best for you? Why?
For my type of business, I have found that both Instagram and Facebook have been my "sweet-spots" for marketing. 
These are platforms where my target audience is spending their time and are great channels for showcasing photos of my cupcakes which ultimately sells them. In terms of marketing, it's important to have a full presence (social media, website, email marketing, etc.).
People naturally digest information in a variety of ways so its important to promote your business on a variety of platforms and avenues to attract your ideal client.



4) Would you like to share a piece of advice for someone just getting started in the online business world?
Some advice that I would give to others just getting started is to be patient with yourself and your business, to never stop learning, and never let your passion for your work leave you.
Be patient - in an online world, it's so easy to look at other companies, see their success and wonder why you are not there yet. Success does not happen overnight and it takes time to build a business. Years even. Slow growth is often better than fast growth!
Never stop learning - as a business owner, you need to invest in your knowledge in order to help your business grow. This could be as simple as investing your time into reading blog articles or watching videos to self educate on website building or marketing. There are so many resources online to help you build upon your business knowledge.
Never let your passion for your work leave you - I truly believe that passion drives everything! You need to have a positive outlook, a vision for the future,and a true love for doing what you do to drive you forward. People will naturally want to support you if they see the passion you have for what you do!


5) What have you found most rewarding about being an entrepreneur? 
The most rewarding part of running my business is the fact that what I bake and create gets to be a part of special moments in other people's lives. 
I truly feel so honored every time someone chooses me to do the baking for their bridal shower, baby shower, wedding, birthday, or whatever the celebration may be! It's a pretty surreal feeling being able to do something that I love and having others enjoy the end product of what I create! 
I hope that you enjoyed learning about Julia Nikolaus's Cupcakery CO. 
If you would like to place an order of Julia's delicious cupcakes, or learn more about her business, click here. (Take my word for it, her cupcakes are very tasty.) 
Thank you Julia for being a part of my Creative Heart Blog! It was an honor sharing your story.
I feature creative female entrepreneurs local to Marietta PA. Would you like to be featured? Email me here. 
Thanks and Blessings, 
Cynthia L Sperko